BIG BERKEY gravity water filter with 9 inch British Berkefeld Super Sterasyl Candles
---
Big Berkey� Emergency Camping Filters
Big Berkey Gravity Water Filters with British Berkefeld Ceramic SuperSterasyl fliters, are designed for use where portability is necessary or there is no access to a pressure fed water supply. They are highly recommended for "no water pressure" situations.
International customers include:


With up to four 9 inch candles (the 9" candles are not listed on the chart below)installed they can produce more than 30 gallons of drinking water per day. Assembly of the unit is simple needing only a screw driver. The Sterasyl Ceramic shell component is NSF listed under NSF International Standard #42 & #53.


Unit uses up to 4 filter cartridges and will ship with 2 plugs
2.25 gallon Approximate Capacity
Polished 304 Stainless steel
Includes all parts, (lid knob and spigot may vary from photo)
19".25 tall by 8.5" diameter
When stored, upper unit inverts into lower unit and is 13" tall
---
---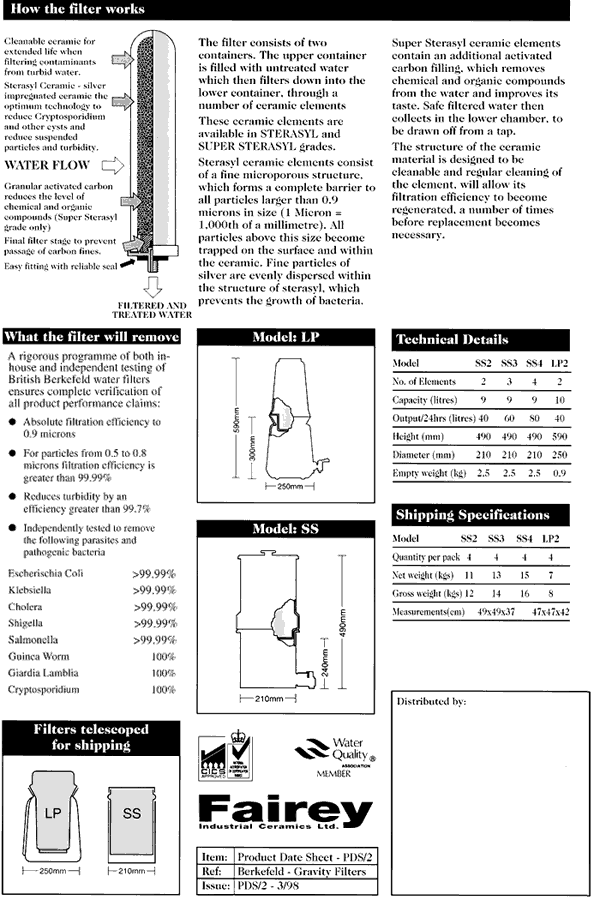 ---
THIS ITEM WILL BE SHIPPED VIA GROUND SHIPPING
ADDITIONAL CHARGES WILL APPLY IF THIS ITEM IS SHIPPED "NEXT DAY AIR" OR "SECOND DAY AIR" OR "FEDEX 3 DAY SAVER" OR "PRIORITY MAIL", WE WILL CALL YOU WITH ACTUAL SHIPPING CHARGES
PLEASE CALL FOR ACTUAL SHIPPING CHARGES TO HAWAII AND ALASKA AS ADDITIONAL CHARGES WILL APPLY THERE AS WELL
NOTE: STAINLESS STEEL GRAVITY FILTERS "NOT AVAILABLE IN CALIFORNIA AND IOWA"
Call Toll Free 1-877-760-3773

E-mail H2oFilters.Com









Do-It-Yourself Water Filtration Products from Doulton Ceramic Filters, Rainshower Shower Filters, Kx Carbon Block Filters, WaterWise, Genesis Distiller, British Berkefeld, Berkey, Filmtec Reverse Osmosis Membranes, Katadyn, and other fine water filters. We have "No Plumber Required" Countertop Water filters, Under Counter water filters, and Gravity feed water filters all for the do it yourselfer

"There's no tragedy in life like the death of a child. Things never get back to the way they were."
Dwight D. Eisenhower

"Love your child as if there is no tomorrow."
Dan Van Wie





Note: Berkey Products not yet available for shipment to California and Iowa